Protect your system from major breakdowns
Like any other system, your heating and cooling systems are subject to wear and tear, and normal breakdowns. Without regular HVAC maintenance, your system could be subject to total failure, leaving your home uncomfortable, and even at risk. Call us for dependable routine maintenance.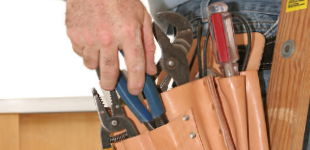 Feel confident throughout the year
Keeping your systems in ideal condition requires regular HVAC maintenance services. The constant rise in equipment prices, however, can make regular services costly.
Our maintenance contracts ensure reliable ongoing maintenance at affordable rates.
Due to the almost daily rise of new equipment, parts and labor, we at Bristol Heating and Air Conditioning offer you a planned maintenance program and your heating and cooling system.
The purpose of planned maintenance is the same as that of the periodic maintenance you have performed on your automobile. We want to prevent major breakdowns and expense through proper maintenance and checkout procedures. If the system is finely tuned bi-annually (two times per year) this will help insure year round comfort and efficiency, but does not guarantee that breakdowns will not occur.
The extra benefit of our discount club is that you will always be assured of priority service (24 Hours per day), even when extreme weather conditions may be a factor. Also you will not be charged any overtime rates after regular hours or on weekends, and will receive a 10% discount on any parts, whether during emergency breakdowns or if found during the routine maintenance check.
A discount club maintenance should take one hour per residential system and one to two hours per commercial system, depending upon size, location or problems encountered. If any parts are found to be faulty or extra work is required it will be discussed with the owner before doing so. In the event that extra work is required , it will be billed at regular rates. Any parts will be billed extra with your 10% discount.
The Bristol Heating and Air Conditioning Standards for Quality
We offer:
Superior Skill: Through education and training for personnel in heating, ventilation and air conditioning.
Superior Service: Through a business and personal philosophy that puts courteous, professional service to customers first on every job. We offer preventative maintenance and 24 hour breakdown service. We are Committed to Quality Service.
Superior Selection: Through consideration of energy efficient equipment, its design and performance characteristics, to insure customer satisfaction. We sell only Energy-Saving, HIgh Efficiency Heating and Cooling Equipment for Home or Business.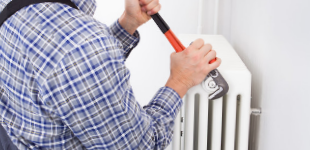 Create a warm and cozy home
Air filter checks
Filter replacements
Check reliability and operation of controls
Lubrication of moving components
Evaporator and condenser cleaning
Blower component cleaning
Gas and oil connection checks
Our service technician will perform the following service operations:
Replace or clean air filters (home owner supplied)
Check and clean humidifier
Check drain lines & pans
Oil fan motors
Check coils
Check for correct electric heater operations
Check for correct voltage and amperage draw
Check electrical connections
Make a visual check of ductwork and the entire system as a whole.
Bristol Heating and Air Conditioning is offering our discount club to our customers for the sum of One hundred and Ninety Six Dollars ($196.00) per year, for one complete system, two times per year, approximately every six (6) months. If multiple systems, (up to four systems) the cost will be discounted to One Hundred Eighty Two Dollars ($182.00 per system), per year. For more than four systems, please call the office for a quote.
We also offer a full line of Indoor Quality Products, to make your life healthier and more comfortable.
Humidifiers
Air Cleaners
UV lights
Hepa Filters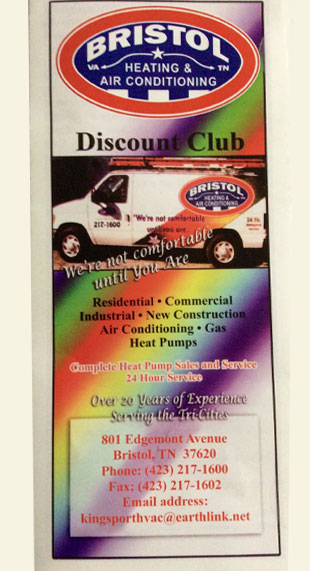 If you are experiencing any problems with your heating or air conditioning system, call us. Emergency services are available 24 hours a day.
Put your confidence in our locally owned and operated company to help protect your home and family.
Get in touch with us to find out more about regular HVAC maintenance and schedule an appointment for your installation and service.
423-217-1600